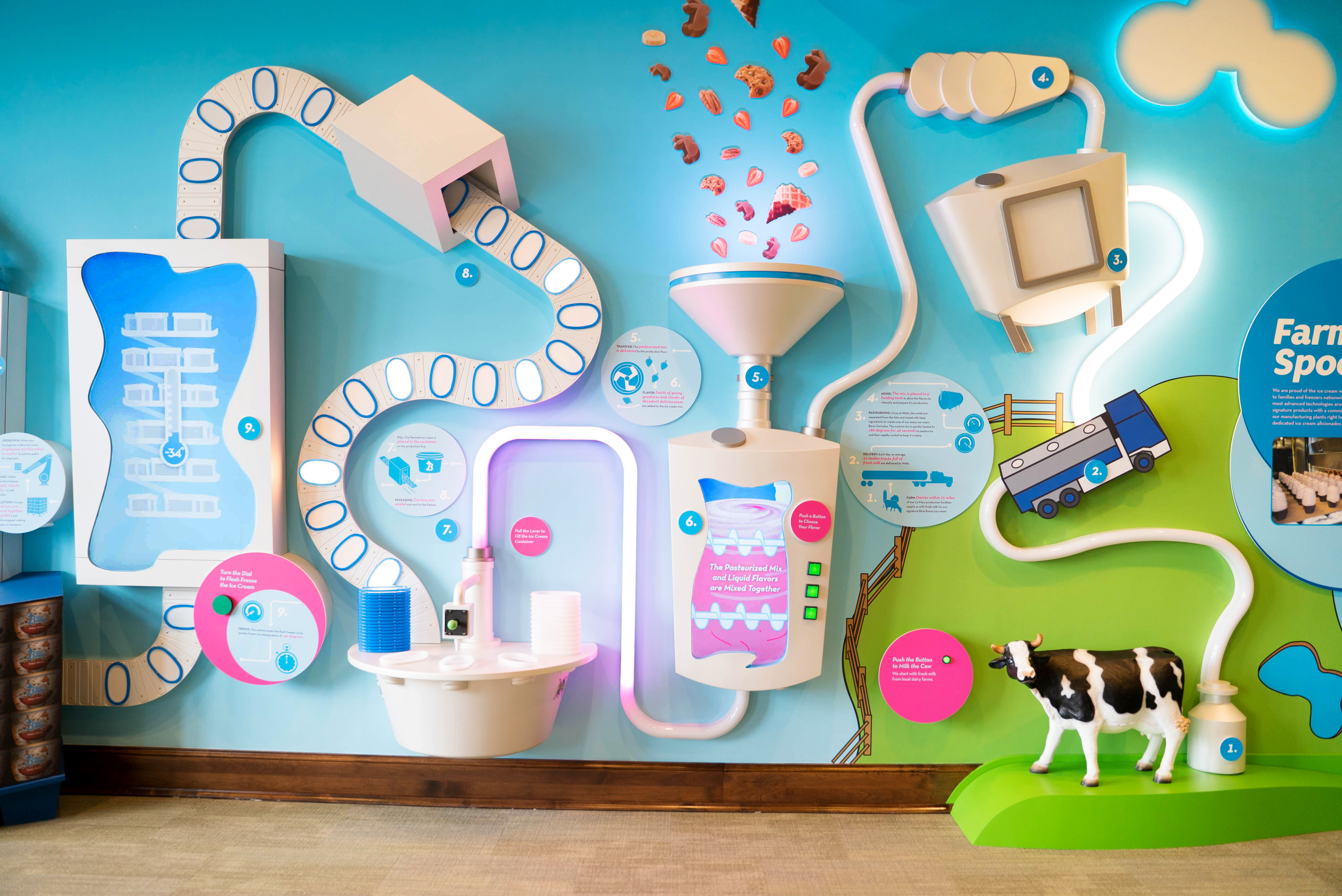 Let the Adventure Begin
Get ready for your senses to go wild. The smells of freshly baked waffle cones and ice cream will welcome you as soon as you take a step inside. An interactive virtual production line will give you a taste of how our manufacturing facilities produce over 150 million gallons of ice cream per year. That's a lot of ice cream!
Sample as many flavors as you'd like (yes, really)—we know all our flavors are worth it, after all! Once you've found your favorite, build the ice cream treat of your dreams and enjoy it in the Ice Cream Capital of the World.
Ice Cream Is Only the Beginning
You know us for our delicious ice cream, but now we've added fun experiences to the mix at the Wells Visitor Center & Ice Cream Parlor. Step on up to the virtual soda fountain and make the ultimate sundae creation—with every scoop of sprinkles or drizzle of chocolate syrup, you're in for a special surprise.
Let the games begin on the second floor of the Parlor and race freezer robots to get the product picked and placed in the truck for delivery. Take our interactive flavor personality quiz or snap a picture keepsake at our ice cream photo booth. Learn about ice cream's journey from the farm to your spoon through our virtual production line. Take in a movie about Wells history or how ice cream is made in the Wells Family Theater. We have so many activities for you to enjoy, you may even walk away an ice cream expert.
Take a Step Back in Time
Abraham Lincoln posing with a giant banana split? A massive scoop of ice cream in the back of a Ford Model T? We made some of the most iconic pictures in history a little sweeter on our Story of Ice Cream display. Learn how ice cream has been bringing people together for centuries and how Le Mars, Iowa is a big part of it.
Want to Learn More?
Discover the sweet history and evolution of Wells Enterprises and the new Wells Visitor Center & Ice Cream Parlor and what keeps visitors coming back.
Learn More