The Sweetest Place on Earth
Fun fact—Le Mars, Iowa makes more ice cream than any other location on earth! The town of 10,000 people was dubbed the Ice Cream Capital of the World in 1994. It's lived up to its name by serving the most delicious ice cream treats to visitors near and far.
Formerly known as the Blue Bunny Ice Cream Parlor, the new Wells Visitor Center & Ice Cream Parlor offers something for everyone. You can expect nothing less than a tasty, interactive experience—with lots of ice cream, of course!
We created an interactive experience beyond the tastes and smells of the Parlor. Experience virtual production lines, interact with displays to learn more about the ice cream process, and take in a theater show on The Story of Wells while you're here.
Ready for a sweet treat? Choose your favorite from our expanded menu and enjoy the view of downtown Le Mars from the second-floor rooftop.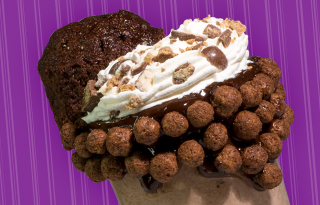 Tasty Feature: Molten Chocolate Lava Shake
Craving all things chocolate? We have the ice cream treat for you! The Molten Chocolate Lava Shake lives up to its name. It's a chocolate explosion! We start with Wells Chocolate Brownie Extreme Premium Ice Cream® and blend it with malted milk balls, crispy chocolate bars, and a ribbon of thick fudge. Did you think that was it? We're just getting started! We top this masterpiece with a mountain of puffed cocoa cereal and warm, gooey molten lava chocolate cake. Extra napkins (and an extra spoon) may be necessary (but not required).
Want to Learn More?
Discover the sweet history and evolution of Wells Enterprises and the new Wells Visitor Center & Ice Cream Parlor and what keeps visitors coming back.
Learn More